Bloomberg – Wonder Woman Crushes Thor With a $101 Million Hammer
Here's where the new blockbuster ranks on a superchart of superheroes.
After 76 years, Wonder Woman is finally realizing her peak power.
The new film based on the DC Comic heroine delivered a massive $101 million in domestic ticket sales, the third best debut of the year to date. More importantly, its success gives Warner Bros. a fresh blockbuster franchise that will pay off for years to come as it battles Walt Disney's men in tights over on the Marvel squad.
The film sets a record for a debut by a female director and ranks among the best-reviewed action films of all time, garnering a 93 percent approval rating from Rotten Tomatoes, an aggregator of professional reviews.
Among comic character-based films of the past 30 years,Wonder Woman's opener ranks No. 20, after adjusting for inflation. The result is on par with Iron Man and well ahead of some of the genre's most impressive properties, including Thor and X-Men. In a superhero superchart, she is near the top of the list.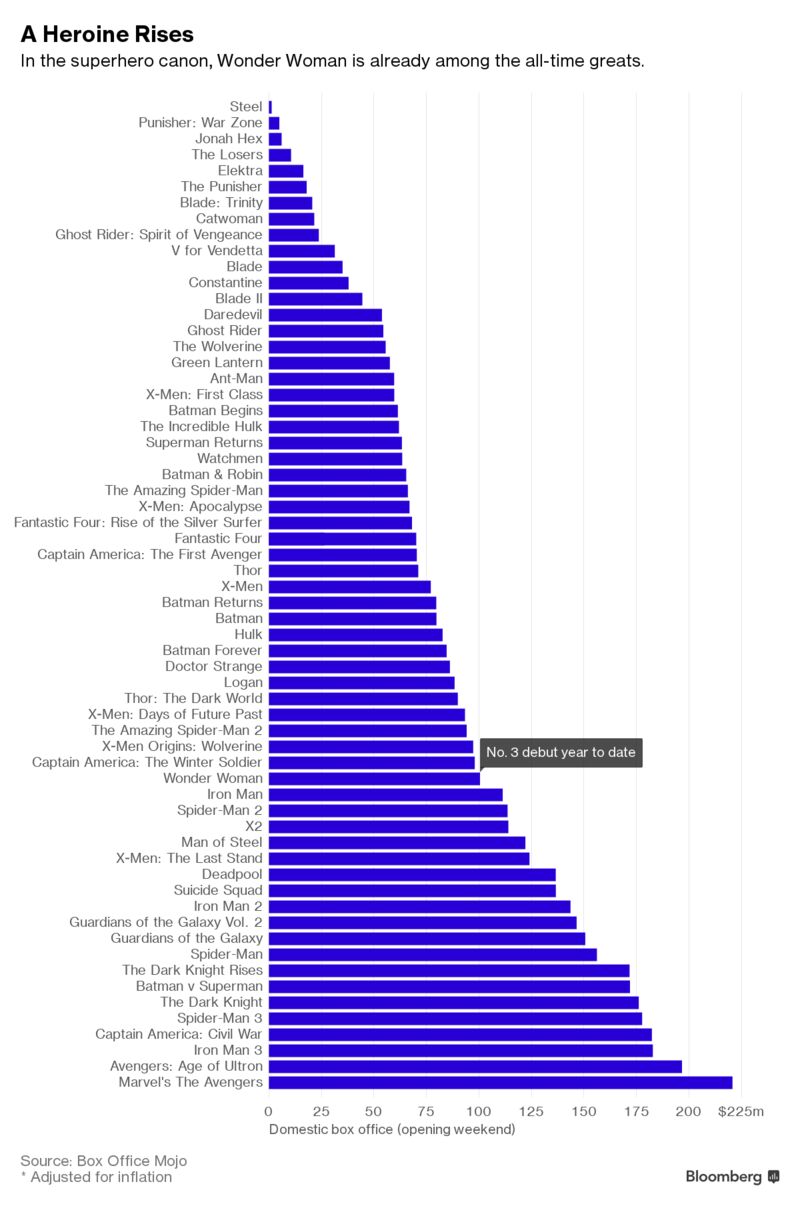 What's even more impressive is that the film set all of these records in 2017 after years in which consumers were served a continuous feast of comic-book fare. Last year alone, DC and Marvel combined for five major releases. And there's no end to the gorging in sight, as studios stretch to broaden the field of proven franchises with new titles such as Deadpool and Suicide Squad.
There are diminishing returns, to be sure, but so far it looks like Wonder Woman certainly isn't among them.
—
MrTopStep Group
http//dev.mrtopstep.com
Questions: info@mrtopstep.com
Follow Us On Facebook and Twitter For More Intra-Day Market Updates!
https://www.facebook.com/mrtopstep
https://twitter.com/MrTopStep (@MrTopStep)
Dont Forget To Subscribe To Our YouTube Channel!
Sign Up Here: http://www.youtube.com/mrtopstepgroup
(Visited 14 times, 1 visits today)