DeMark Sees Risk of S&P 500 Top Should Stocks Fade This Week
Look out for a negative open Tuesday and a trip to 1,917

Wednesday and Thursday hold risks too should the rally fade
The Standard & Poor's 500 Index's rally will give way to a full-blown retreat should the benchmark gauge lose altitude over the next few days, according to Tom DeMark, the chart analyst who predicted an advance in oil earlier this month.
A momentum formula employed by the DeMark Analytics LLC founder that compares closing prices with levels four days earlier would issue a bearish signal should the advance fizzle this week, he said. Specifically, it would foreshadow a decline should the S&P 500, which ended at 1,945.5 Monday, slip at Tuesday's open and close below 1,926.82. Those conditions were met today.
The benchmark index slid 0.2 percent at the open and declined 1.3 percent to 1,921.27 at 4 p.m. in New York.
"The foundation of the ongoing rally is suspect," DeMark, based in Scottsdale, Arizona, said in a phone interview. "The temporary buying produces a price vacuum beneath the market and accelerates the subsequent decline. The decline is going to be sharp."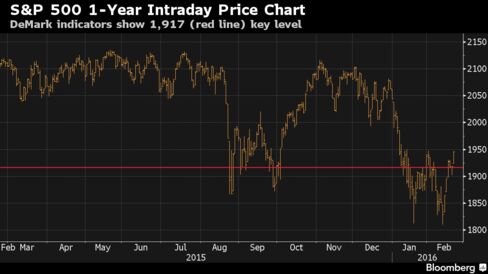 A handful of chart-based calls by DeMark have looked prescient in recent weeks, including a prediction on Feb. 11 that oil would rally and a Jan. 20 forecast for a temporary bottom in the S&P 500. In the same interview he made the crude projection, he said the S&P 500 might go as low as 1,797. It bottomed that day at 1,810.10 and closed at 1,829.08.
In February 2014, DeMark said trading in the S&P 500 mirrored patterns of 1929, asserting that if certain conditions were met, U.S. stocks had reached a point resembling the time before the market crash nine decades ago. The S&P 500 rallied 8 percent over the next two months. He has said that those conditions didn't materialize at the time.
Demark has advised hedge funds including George Soros's Soros Fund Management and Leon Cooperman's Omega Advisors. His company makes money by charging traders for access to its indicators. It also sells subscriptions to the indicators on the Bloomberg Professional service.
Now that this S&P 500 trigger has occurred, the benchmark index will decline at least 8.2 percent from Monday's close to 1,786, a level last seen in February 2014, according to DeMark. Should the market top correspond with what he referred to as "bad news," the S&P 500 could see deeper selling down to 1,736, an 11 percent decline. DeMark sees the ongoing market rally as temporary relief as investors exit short positions.
"We've seen some pretty vicious short-covering come in, which has caused the market to move up," said DeMark. "When that happens, it really plays havoc with the market once the downside move begins."
Improving economic data and the worst sentiment readings in three years combined last week to ignite the biggest five-day rally of the year for the S&P 500, including the first three-day stretch of 1 percent gains since 2011. Companies with the highest short interest were also among the best performers.
DeMark's research looks to identify the likely end of market trends. A series of nine consecutively higher closes, compared with the close four days earlier, often precedes a change in market direction. In this case, the S&P 500 is three trading days from reaching "trend exhaustion" on DeMark's indicator, although it may experience a shift before then. DeMark's downside targets are also derived from his indicators.
—
MrTopStep Group
http//dev.mrtopstep.com
Questions: info@mrtopstep.com
Follow Us On Facebook and Twitter For More Intra-Day Market Updates!
https://www.facebook.com/mrtopstep
https://twitter.com/MrTopStep (@MrTopStep)
Dont Forget To Subscribe To Our YouTube Channel!
Sign Up Here: http://www.youtube.com/mrtopstepgroup
(Visited 9 times, 1 visits today)