Dollar Holding Key Technical Level Triggers Buying Versus Majors
Pound's losses accelerate as support around $1.2410 gives way

Dollar rebounds after touching 111.60 versus the yen
The dollar headed for its biggest advance in three weeks after it rebounded from a key technical level.
The greenback strengthened against all major currencies as it found support at Fibonacci retracement after holding against that line for three days. Traders reported that leveraged investors bought the dollar into the rally, with the euro hobbled by political risks.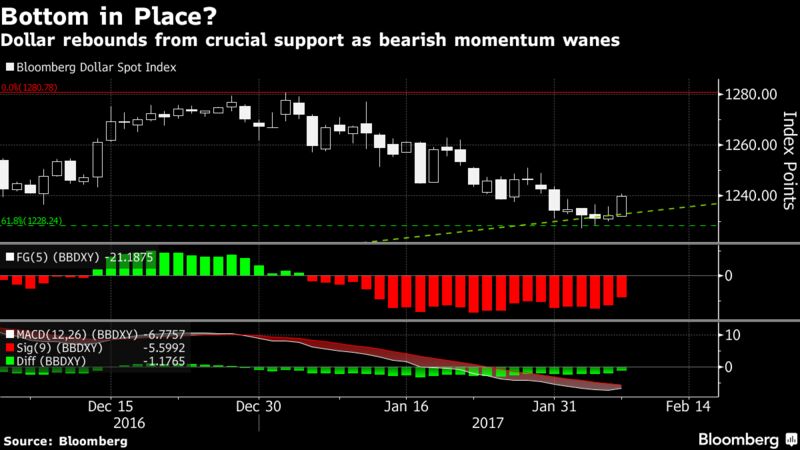 As price action moved into tighter ranges in the dollar, yen and the euro of late, some investors had got complacent, resulting in stops above those stalled positions to be filled, traders in London and Europe said.
The euro hit a few stops below $1.0680 and was hovering just above technical support at $1.0658, where momentum stop entries are also in place, the traders said. The single currency is vulnerable to further pressure, with strong bids now seen only near 1.0600-20.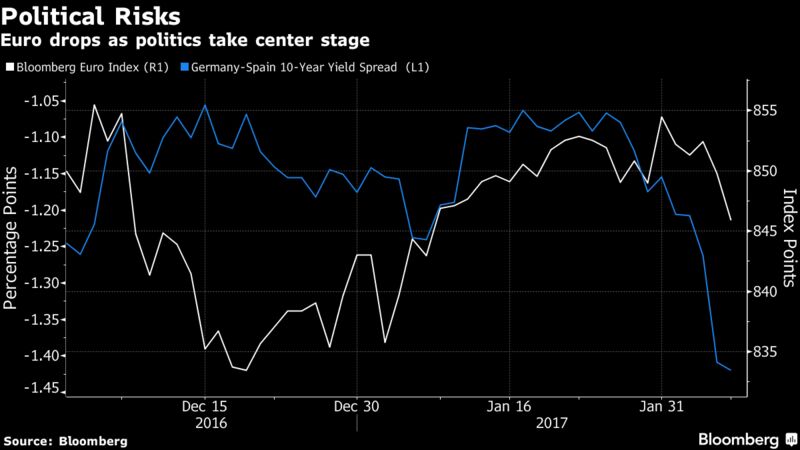 Sterling support above 1.2410 gives way after holding for two weeks. Cable drops to 1.2347 low, for a fourth day of consecutive losses, with stops and stop entries below the figure filled: traders.
Fibonacci line on BBDXY drawn from its post-U.S. election rally from Nov. 9-Jan. 3.
Dollar-yen traders may be puzzled after the latest move as bearish momentum after daily close below 112.00 handle, the first since Nov. 28, is met with demand that prompts a 77-pip rebound from 111.60 low. USD/JPY now +0.5% to 112.34.
Norwegian krone is the main underperfomer today versus the dollar; USD/NOK headed for biggest two-day advance since mid-December.
—
MrTopStep Group
http//dev.mrtopstep.com
Questions: info@mrtopstep.com
Follow Us On Facebook and Twitter For More Intra-Day Market Updates!
https://www.facebook.com/mrtopstep
https://twitter.com/MrTopStep (@MrTopStep)
Dont Forget To Subscribe To Our YouTube Channel!
Sign Up Here: http://www.youtube.com/mrtopstepgroup
(Visited 12 times, 1 visits today)