MARKETS
Good morning. I'm James Willhite, with Tuesday's markets update as stocks look to extend Monday's rebound.
Futures are up, as traders appear to push aside recent fears around the spreading coronavirus. There's little in the way of data expected today—though a reading on factory orders is expected to register an increase. Earnings season continues apace with updates due from Ford, ConocoPhillips, Walt Disney and others.
Meanwhile, our Ryan Dezember looks into the recent jump in lumber prices amid rising home construction.
Markets in a Minute

Overnight Developments
Global stocks rose on speculation that economic growth will prove to be resilient as fiscal and monetary policies blunt the impact of the coronavirus outbreak on China's economy.

Lumber Prices Climb on Home-Building Pickup
By Ryan Dezember, markets reporter
Builders are hammering away at more new houses than at any time since before last decade's foreclosure crisis, and the construction boom is driving up lumber prices.
Lumber futures are up more than a third from lows reached last June, when bad building weather and overstocked yards caused an unseasonable slump. On Monday, futures for March delivery closed at $422.30 per 1,000 board feet on the Chicago Mercantile Exchange. Wood for May delivery was at $423.
Though relatively high, current prices are still well below a peak of $639 reached in May 2018. The surge to that historic level was spurred by wood-boring beetles, wildfires and tariffs on Canadian imports. Home builders groused about thousands of dollars per house in added costs.
They've sung a different tune since. Home-builder stocks outperformed the broader market last year en route to new highs, lifted by low mortgage rates that enticed home buyers and a yearlong tumble in lumber prices.
In December, U.S. housing starts surpassed a seasonally adjusted annual rate of 1.6 million. That is their highest level since December 2006, just months before the real-estate market unraveled. Residential building permits are being issued at the highest rate since 2007. Mild winter weather has extended the building season in much of the country.
Shares of D.R. Horton, the country's largest home builder by the number sold, reached a new high last week after the company said it closed on sales of nearly 13,000 houses during the three months ended Dec. 31, which was 13% more than a year earlier. Orders during the period were up 19%, to $3.9 billion worth of houses. The company's houses on average sell for just under $300,000.
PulteGroup, the third-biggest home builder, said its fourth-quarter orders were a third higher. Shares of Pulte, which sells homes for an average price of about $430,000, are up 65% over the past year. Rivals NVR, the parent company of Ryan Homes, and Meritage Homes have also reported double-digit growth in orders.
Will home-builder shares hold their gains amid higher materials costs? Let us know by replying to this email. Your comments may be edited before publication in future newsletters, and please make sure to include your name and location.
Market Facts
Tesla shares are rallying at their fastest pace in years, testing the resolve of short sellers who have made the electric-car maker one of the most bet-against companies in financial markets. The ascent has been so rapid that Tesla shares, which jumped 20% to a closing record Monday, are now up 86% for the year—outperforming every single stock in the S&P 500, as well as bitcoin and gold.

Just five stocks account for nearly a fifth of the S&P 500's total market capitalization—the highest share since the dot-com bubble peaked at the turn of the century. They are: Facebook, Apple, Amazon, Microsoft and Alphabet. Still, Goldman Sachs said it's not yet a cause to worry, as the companies don't look as expensive as their counterparts from 2000, and their recent earnings show that their businesses remain on strong footing.

On this day in 1863, the Stockholm Stock Exchange opened for trading. The first day's volume: 22 trades for a total of 14,105 Swedish dalers (the currency of the time).
Key Events
U.S. factory orders for December, due at 10 a.m. ET, are expected to rise 1.4% from the prior month.
Must Reads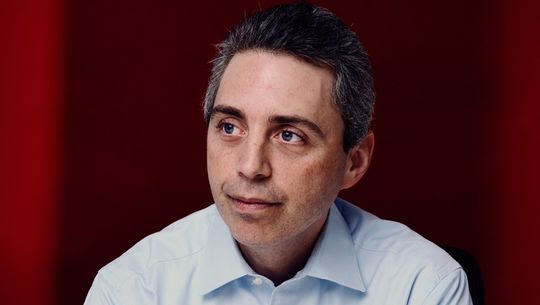 Adam Korn, an 18-year Goldman veteran, most recently supervised 5,000 engineers working to electronify the trading floor and build new software for clients. PHOTO: PETER GARRITANO FOR THE WALL STREET JOURNAL
The king of Goldman's "straders" is leaving the firm. Adam Korn, the hybrid trader-coder whose star has been on the rise inside the Wall Street firm, is leaving, people familiar with the matter said Monday. His departure follows that of Martin Chavez, a technologist and trading executive who left at the end of last year.
Home-loan banks may soon channel funds to more mortgage players. Regulators are weighing letting the $1.1 trillion network of government-chartered cooperatives, founded to support community lenders, expand to nonbank firms and REITs.
Is your city's pension fund a little short? Marijuana might help. Local officials are counting on marijuana taxes to help fix their underfunded retirement systems, but the revenue can be unpredictable.
Tradebot, a pioneer of high-speed trading, is struggling with a profit slump. An early high-frequency trader that recorded a profit every trading day for 14 years faces falling income and an employee exodus.
Citigroup suspended a trader for stealing cafeteria food. The bank suspended Paras Shah, a junk-bond trader in London, for repeatedly failing to pay for food taken from the bank's cafeteria. Mr. Shah earned about $1.32 million annually including a bonus.
Starboard took a stake in prepaid debit-card firm Green Dot. The activist investor has built a roughly 9% position in Green Dot, according to an SEC filing.
Worldline struck an $8.6 billion deal to create a payments giant. Fintech company Worldline agreed Monday to acquire rival Ingenico Group in the biggest global deal of the year so far, creating a giant in the fast-consolidating European payments sector.
What We've Heard on the Street
" 'Just raise my ticket price instead of loading me up with extra charges, and I'll pay.' Evidence from the airline industry suggests this is something people say but don't do."—Heard on the Street columnist Jon Sindreu
Stocks to Watch
Alphabet: Google's parent company shared financial results for the first time for a number of its operations, but the new disclosures failed to distract investors from disappointing performance in its core advertising business.
Hartford Financial Services: The insurance company said profit almost tripled for the fourth quarter, as it reported gains in its property and casualty and group-benefits businesses.
Valvoline: The automotive products company reported first-quarter earnings that beat analysts' forecasts.
Houlihan Lokey: A federal regulator hired the investment bank to help recapitalize Fannie Mae and Freddie Mac, in a contract valued at up to $45 million over about five years. Houlihan Lokey also reported third-quarter earnings Monday after markets closed.
Ford, Chipotle Mexican Grill, Aflac, ConocoPhillips and Walt Disney are among the companies reporting earnings on Tuesday.
About Us
We want to be the first place you go to get ready for the opening bell every day. This newsletter is written and edited by James Willhite (@jimwillhite; james.willhite@wsj.com) in London.
(Visited 79 times, 1 visits today)